We are always looking to fine-tune our events to make them as enjoyable as possible! After your feedback, we've tweaked some bits and pieces in The Jackal's Eve Event to improve it. Check out the changes below:
Increased the base Shriek earn rate in matches by 50%.

This means that if you earned 70 Shrieks at the end of a match, you would now earn 105.
This increase also stacks with the Jackal Lantern Trinket

Jackal's Eve Equipment Cases are now purchasable with Credits, in addition to Shrieks.

Equipment Cases still cost 600 Shrieks, but can also be purchased directly for 1000 Credits
Players who have already spent Credits on Shriek Bundles (and then purchased Jackal's Eve Equipment Cases with those Shrieks) will be compensated with the extra Jackal's Eve Equipment Cases they would have received if they directly purchased them for 1,000 Credits each.
Thank you for all of your feedback on the event so far!
The Jackal's Eve Event
The CDA have started enjoying the quiet life. So, we tasked Phantom with spreading a little Halloween cheer. A touch of invisibility and dash of spray paint later; well, let's just say he'd done a little… rebranding. A few cases with our logo, a lick of paint for a few weapons… classic hooligan work.
Problem is, he did such a good job now every Tom, Dick and 'Arry wants one. So we've put them up for sale on the Black Market.
Jackal's Eve is a two week event that has you earning Limited Edition content as you battle on the streets of London.
Jackal's Eve will take place on the following dates:
London (BST, UTC +1): 09:00 Wed, October 25 - 9:00 Wed, November 8
Los Angeles (PDT, UTC -7): 01:00 Wed, October 25 - 01:00 Wed, November 8
Beijing (CST, UTC +8): 16:00 Wed, October 25 - 17:00 Wed, November 8
Sydney (AEST, UTC +10): 19:00 Wed, October 25 - 20:00 Wed, November 8
SHRIEKS
Shrieks are a limited time currency that can be earned by playing in matches, or by picking up bundles of them in the Store. Shrieks left over at the end of the event transfer back to Credits at a 1:1 conversion.
LIMITED EDITION CONTENT
JACKAL LANTERN TRINKET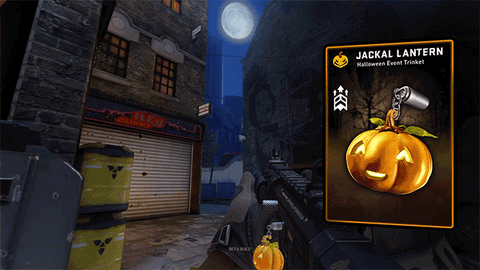 Want to make the most of the Jackal's Eve event?
The Jackal Lantern Trinket gives you extra Shrieks and your enemies shivers, with a spooky sound that nearby players can hear when you inspect your weapon.
Equipping it gives you 50% extra Shrieks for every match you complete, and also boosts the Shriek earnings of ALL players in your matches by 5%.
These stack up to an additional 50%, so the more players have them equipped, the more everyone will earn.
Pick it up in the Store and get earning those Shrieks!
JACKAL'S EVE LOADOUT CARDS
Phantom's handiwork has led to a rebranding of some Merc outfits.
These Limited Edition Jackal's Eve Loadout Cards can be earned during the course of the event, and can be found in three types of branded cases.
Jackal's Eve Cases
There are three types of Jackal's Eve Cases available during the event:
Jackal's Eve Equipment Case
Jackal's Eve Equipment Cases can be bought in the Store for 600 Shrieks. They have a 2% chance of dropping a Jackal's Eve Loadout Card.
Jackal's Eve Elite Cases
These replace standard Elite Cases in the Store for the duration of the event, and give you a 10% chance of scoring a Jackal's Eve Loadout Card. Bundles also contain guaranteed Jackal's Eve Event Cases.
Jackal's Eve Event Case
These cost 12,000 Shrieks and are guaranteed to drop a Jackal's Eve Loadout Card.
Locked Contraband Case
Jackal have smuggled a mysterious case into London. They're willing to part with it, for a price, but who knows when they'll give up the code to open it?
This case contains a mystery item, and will be openable in a future update. Make sure you hold onto it!
Ranked Season 4
We've been monitoring the performance of Ranked Season 4, and have started making tweaks to improve the overall experience. We'll keep on making more improvements as the season continues!
Updated the Win/Loss Elo calculations to better reflect actual chances of each team winning based on average team skill, this means that:

Winning against a higher skilled team results in a much greater Rank increase
Winning against a lower skilled team results in a much smaller Rank increase
Losing against a higher skilled team results in a much smaller Rank decrease
Losing against a lower skilled team results in a much greater Rank decrease

Updated Ranked penalties for leaving a match to scale up to 7 days (from 3 days)
Fixed bug where average team rank would not appear for CDA
Fixed bug where the 'Asia / Aus' region was named the 'Singapore' region
Fixed bug where more than 3 maps could be deselected
General Improvements and Bug Fixes
Fixed bug where Augments no longer had an effect
Fixed bug where the proximity detection trigger-box for Proximity Mines was also acting as a hitbox for the Mine itself, and would often receive double damage if both boxes were hit at the same time

Reduced Proximity Mine health to 7HP to compensate for the smaller hitbox and that it no longer takes double damage (from 30HP)

Fixed bug where projectiles thrown during warm-up phase could persist to the start of the round (Grenades, Molotovs, etc)
Fixed bug where Guardian's Sky Shield would destroy deployables that have already been placed (Heartbeart Sensor, Sticky Grenades, Air Strike marker, Snitch)
Renamed 'Guardian XP' to 'Savior XP' (XP earned from killing an enemy who is attacking a friendly) to avoid confusion
Fixed a bug where estimated Match times could be significantly wrong in matchmaking
Fixed a bug where the Exit button wouldn't exit the game on the first use
Known Issues
Jackal Lantern inspect sound is not audible for nearby players
What do you think of the event? Land any excellent Jackal's Eve Loadout Cards? Join the conversation in the Official Forums!